VEZINA: How to prepare for the next pandemic and other disasters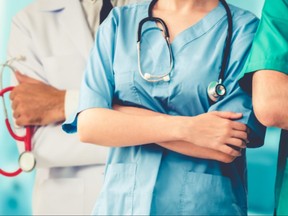 Health-care workers. Photo by Stock art /Getty Images
Whether Canadian provinces improve hospital capacity, or decide no change is necessary coming out of the COVID-19 pandemic, some critical factors are being overlooked.
The first is that Canada massively underfunds emergency management and business continuity programs to deal with disasters.
Many municipalities simply look at another jurisdiction that is similar to their own and copy and paste their emergency plans.
The problem is the people in charge don't have the training or resources needed to address specific risks to the degree necessary in a disaster.
Expecting them to do so without sufficient training and resources is foolish and unfair.