Vladimir Putin 'bathes in blood of deer antlers to boost his sex drive'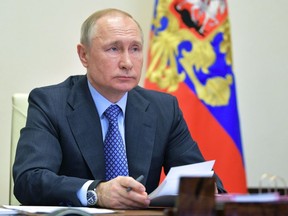 Vladimir Putin – 2020 meeting US – Avalon Bang Showbiz
Vladimir Putin "bathes in blood of deer antlers" to boost his sex drive.
The 69-year-old Russian president – who launched the ongoing invasion on Ukraine back at the end of February – reportedly basks in the ritual which is thought to maximize libido.
The source added: "An acquaintance of the president claims that he had been warned that there is no conclusive evidence of the benefits of antler baths. But Mr. Putin liked it, and since then he has revisited Altai multiple times."
The barbaric ancient ritual – which is thought to dubbed a "natural Viagra", is said to boost male potency, despite being condemned by animal rights groups, with one claiming that removing the horns of a deer could "scar" the animal psychologically.
The WWF for Nature in Russia previously said: "Our only concern is that the brutality of this disgusting procedure could leave psychological scars on the deer's psyche."