Winter camping at Manning Park will have you star gazing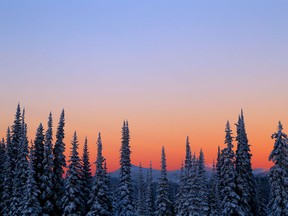 Sunset in Manning Park gives way to the best stargazing in southern B.C. Photo by Manning Park Resort
When my partner proposed winter camping for New Year's Eve I thought it might be romantic.  
Spending a few nights snuggled up in our tent, camping in the snow under the star-flecked wintry skies of Manning Park meant cold temperatures, sure, but at least there wouldn't be bugs.  
As we prepared our gear: sleeping bags, camp stove, tent, cross-country skis – we paid little attention to what Mother Nature was preparing; a cold snap with nighttime temperatures plunging to -25C.  
Along the snow-covered Crowsnest Highway 3, tall coniferous pine trees morphed into snow ghosts, disguised by blankets of fluffy white powder.    
After digging out and tamping down a level site we pitched our dark-green tent among a dozen others. As the sun set, ice crystals danced in the air, the temperature dropped in concert with the gathering dusk.   
We gathered around the fire pit, swapping camp tales with new friends. Hot chili and cornbread muffins warmed and revived us. (We managed not to chip our teeth on frozen Toblerone bars.) Keeping the bubbly chilled was not a problem. Keeping our bodies warm was.  
A few of campers picked up firewood at Manning Park Resort's Country Store on route to the campground, and we generously piled the split logs onto the fire.    
Our B.C.-based crew of about 20 campers was an adventurous mix of kitted-out seasoned camping enthusiasts and those of us carried away by the romantic allure of cuddling up under the festive eve's starry night sky.